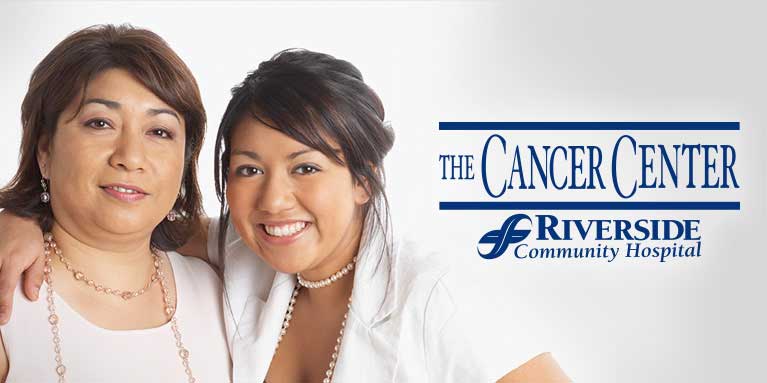 A Milestone for Our Community
The Cancer Center at Riverside Community Hospital is a milestone for the community. Since 2003, our team has offered comprehensive care and support to patients who have been diagnosed with cancer. We understand the challenges and difficulty patients and families face when one has been diagnosed with cancer. Our dedicated team of oncology specialist and nurses are here to provide each patient with individualized, specialized care, compassionate support and the resources they need to make their treatments and time here as comfortable as possible.
Each patient deserves the very best care, which is why they can rest assure that they are in hands they can trust. As an accredited comprehensive cancer program, The Cancer Center at Riverside Community Hospital provides high quality cancer care to every patient. Our center offers a comprehensive array of diagnostic services utilizing some of the latest state-of-the-art technology for diagnosing and treating a variety of cancers that can occur throughout the body.
Cancer Treatment & Services
Our team of cancer specialists creates personalized treatment plans for every patient by combining the latest medical oncology, surgical oncology and radiation oncology therapies and treatments. At the Cancer Center at Riverside Community Hospital, patients can expect centralized care, compassionate treatment, and the highest levels of clinical expertise.
Offering New Hope to Cancer Patients with CyberKnife
In the past, residents have traveled to hospitals in outlying areas to seek high caliber cancer services. Riverside Community Hospital has long been committed to investing in the latest technologies. We are proud to now be the first center in the Inland Empire region to offer the CyberKnife Robotic Stereotactic Radiosurgery System for treatment of tumors and lesions in the brain, spine, head and neck, lung, liver, pancreas, and prostate, many of which have been deemed "inoperable".
CyberKnife treatments are now available at the new CyberKnife Center at Riverside Community Hospital's Cancer Center. Riverside Community Hospital is one of only a few centers in California that offers this service.
Types of Cancer We Treat
Bladder Cancer
Bone Cancers
Brain Tumors
Breast Cancer
Colorectal Cancer
Gynecological Cancers
Laryngeal Cancer
Lung Cancer
Lymphomas
Pancreatic Cancer
Prostate Cancer
Skin Cancers
Testicular Cancer
To learn more about cancer care services at The Cancer Center at Riverside Community Hospital in Riverside or to schedule an appointment, call (951) 788-3463.
Genetic Counseling for Cancer Risk
3D Mammography
Medical Oncology and Hematology
Radiation Therapy
Surgical Oncology
Nutrition Therapy
Integrative Cancer Therapies
Robotic Surgery
H. Jhangiani, MD, Med Onc
E. Reyes, MD, Medical Oncology
D. Massee, MD, Radiology
D. Okada, MD, Pathology
A. Rashtian, MD. Radiation Oncology
G. Strother, MD, Family Medicine
R. Baqai, MD, Hematology/Oncology
B. Choi, MD, Medical Oncology
Dr. Gorty, Radiation Oncology
Lacy, MD, Surgeon
M. Karimi, MD, Medical Oncology
T. Mahdi, MD, Family Medicine/Palliative Care
M. Meyer, MD, Pathology
A. Odulate, MD, Radiology
D. Burke, MD, OB/GYN